Service Provider Metadata
---
This tab provides you the information to configure miniOrange as SP on your Identity Provider. You just have to copy these information on your IdP and save it.
For configuring miniOrange Joomla as SP on your IdP, you have two options:-
1) Automatic Configuration You can provide metadata to your IdP. This can be also done by two ways:-
You are given a metadata URL; this you can directly provide to your IdP.


You can download the metadata file by just clicking on Download XML Metadata button, upload this file on your IdP.

2) Manual Configuration
You will need the following information to configure your IdP. Copy it and keep it handy: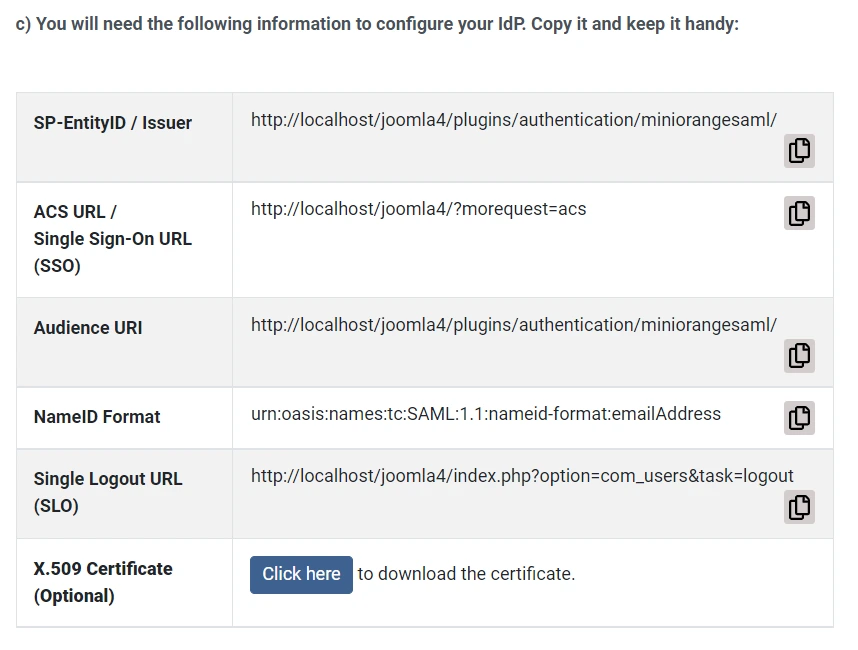 There is also an option to change your SP Base URL or SP-EntityID. You just have to provide your new URL and click on Upload. It will automatically change the corresponding credentials.
Default Relay State: If this Relay State URL is set, users will always be redirected to this URL after SSO into Joomla. This feature can be used whenever the site owner wants users to be redirected to a particular page after they perform SSO.