Multiple Grant Support
Applies to : Premium or Higher version
This feature allows you to select any grant type based on your OAuth Provider.
List of grant type support we provide:

Authorization Code Grant
Resource Owner Credentials Grant (Password Grant)
Implicit Grant
Refresh token Grant
PKCE Grant
NOTE - Refresh Token Grant will be used by default. This will be in effect with every other grant.
How to configure different grant types?
Navigate to the "Configure OAuth" tab and click on "Edit Application" link in front of the application that you want to configure a specific grant type for, like shown below:

Here, you will find an option to select the Grant Type for the application. Like shown below:

We use Authorization Code Grant by default. However, you can choose any of the grants available here. Namely - Authorization Code Grant, Implicit Grant and Password Grant.
How to configure Authorization Code/Implicit Grant?
We already use Authorization Code Grant by default.
If you are using any of these grants, you probably do not need to do anything special.
That said, if you are using OpenID Connect Provider, you will need to configure the JWT Support. Please check the JWT Support section.
If you are using Implicit Grant, it is more likely that you are using OpenID Connect Provider.
You should also check out OpenID Connect Support section.
How to configure Password Grant?
When you select Password Grant from the Grant Type menu and save the settings, you will be provided with a new option under the Grant Type menu.

If you want your users to be able to log into your website with the default WordPress login form, you can check this option.

NOTE - This applies to all the forms that log in the user into WordPress as a whole.
Where is Refresh Token Grant?
Refresh token is used by default to refresh the Access Tokens received during SSO. You can get the refresh token with a hook that we provide.
Please refer the WP Hooks section for more details.
How to configure PKCE flow?
Important: Make sure your OAuth/OpenID provider has support for Authorization code grant with PKCE.

Make sure you have selected grant type as Authorization Code Grant for you OAuth provider.
NOTE - You can enter any value in the client secret field if not provided by your provider.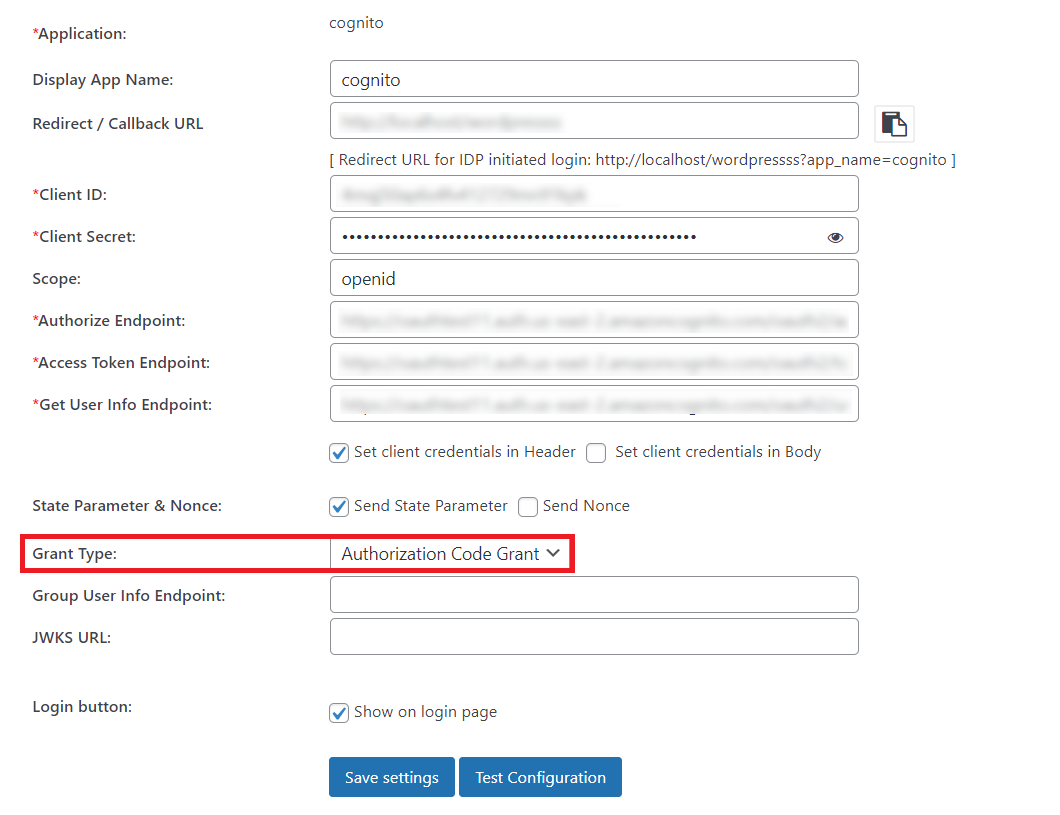 To enable the PKCE flow for your OAuth / OIDC provider, enable the below PKCE checkbox in the Advanced Grant Type Configuration.